In the month of September, 2010, I had the privilege of going with some friends on a road trip the length of the San Andreas Fault, from San Francisco to the Salton Sea. September is not the most aesthetically beautiful month to take this trip, I should warn the reader. April would be the best month to do it, because if there are any flowers in bloom on the route it will most likely be then. But September was the only time that both I and my friend the former professional geologist could make the trip. I had two other friends on the trip – strange to relate, they were both artists.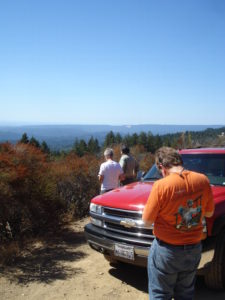 We left from our hotel in San Francisco and headed straight over to Mussel Rock in Daly City, where the Fault emerges from the sea – or plunges into it, depending on what direction you're going. You can see where it resurfaces at Bolinas in Marin County. From Mussel Rock we headed down Highway 35, which follows the fault line and eventually merges with Interstate 280. The route goes past a couple of reservoirs in the fault trench, the first of which, San Andreas Reservoir, gave its name to the whole fault. Bicyclists, many in helmets and what looked like ballet costumes, were everywhere on this stretch, and, as I commented in a previous post, they had often hauled their bicycles up there on SUVs.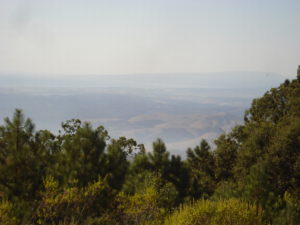 How green. We drove into Woodside and stopped at this rustic little market to get water that turned out to have an excellent selection of wine and cheese and to be one of the most outstanding manifestations of Bourgeois Bohemianism we had ever seen. Nearby was a little restaurant called Buck's that, if I remember rightly, is supposed to be a good place to spot Silicon Valley celebrities at breakfast time. Alas we had had breakfast before we left The City [as San Francisco is called in this region] so we didn't really have any time for celebrity spotting.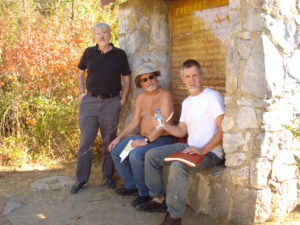 The road no longer followed the fault trench, so we ascended back up to Highway 35, which in this area followed a ridge that paralleled the fault line. In one place we had good views of Silicon Valley and Stanford, in another place in the direction of Santa Cruz and the Pacific. We passed through the area that had been the epicenter of the 1989 'World Series' earthquake that disrupted a World Series baseball game and eliminated a viaduct in Oakland, regrettably also eliminating some of the people that were driving on it at the time as well. Shortly after that we ran out of road on the ridge and were forced down the hill through the little suburb of Corralitos into Watsonville, a largely Latino town that functions both as a farm town for the flat lands of the little Pajaro Valley and as a working class bedroom for nearby Santa Cruz and probably even Monterey and Carmel. We had a tolerable lunch there and then headed through San Juan Bautista up Fremont Peak (Cerro Gavilan) which has a Coulter pine forest at the top and a spectacular view in many directions, but whose main notoriety is historical.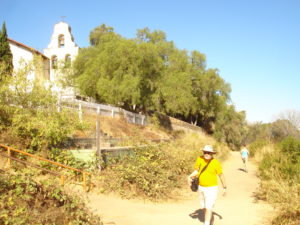 In March of 1846 Lieutenant Colonel Fremont was leading an expedition around the Central Valley of California, much to the displeasure of the Mexican authorities, who claimed California and actually occupied the coastal sector as far up as Sonoma County. Fremont responded by having his expedition climb up Cerro Gavilan and raise the American flag. After a few days he thought better of it and fled north toward Oregon.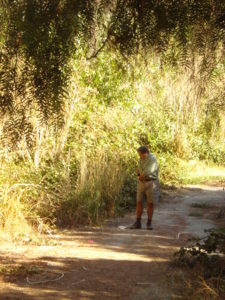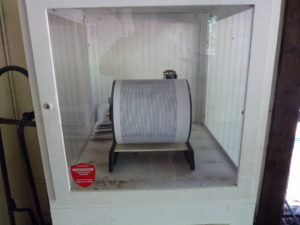 Near Klamath Lake one Major Archibald Gillespie caught up with him. This Gillespie had somehow slipped all the way across mainland Mexico, caught a boat to San Francisco, and then ridden up to Klamath Lake to inform Fremont that the US Government had decided to declare war on Mexico. Fremont slipped back south and plotted with ethnic Anglo immigrants to declare the California Republic, or Bear Flag Republic, in Sonoma on June 14, 1846. Contrary to what some think, this was no analogy to Texas; this republic never controlled more than the north side of the San Francisco Bay and the Sacramento area, and it surrendered to American troops when they landed in San Francisco on July 9. How the war in California went on from there, and how it was that Fremont got court-martialed, is a story too long for this post, though if there is sufficient flattery I may put it up at another time.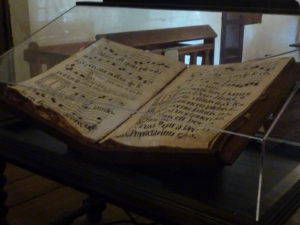 We pulled into the town of San Juan Bautista and checked into the Posada de San Juan hotel for one night. This was a perfectly decent hotel in the old town except for that (a) there was no elevator, (b) the hall, though not the rooms, smelled of cleaning fluid, (c) I was charged $95 because my room key had slipped into the wrong part of my purse and I couldn't find it when I came to leave. We went that night to a Basque restaurant that had the Euzkadi flag on the wall and other such indications. After that we had after-dinner drinks at a Mexican place on the main street.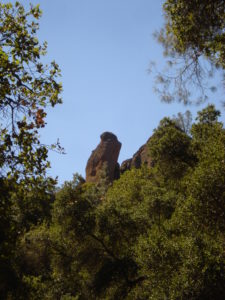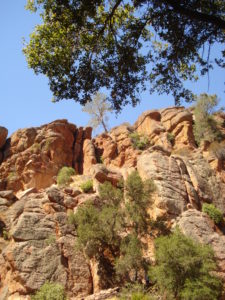 If one cannot do the whole fault tour and can only go to one place, I would say San Juan Bautista is probably the place to go to. It is within less than an hour of both Santa Cruz and Monterey, and about an hour from San Jose or less depending on the traffic. The town is mildly touristy, feeling like a country version of Capistrano but a little less crowded. The mission sits on the edge of a low [10 feet or so] bluff, which is in fact the fault line, and there is a seismograph in the back yard.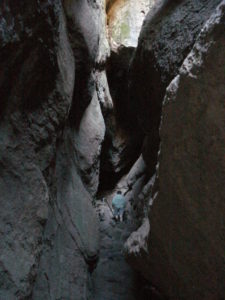 After seeing these things and photographing ourselves on various continental plates, we headed down the road. We headed to Cienega Road, following the fault line and bypassing Hollister, now a growing South Silicon Valley suburban town but known in the 1950s as the place where motorcycle gangs gathered, inspiring the Marlon Brando film The Wild One. Eventually we caught up with Route 25, which in this section is the fault line route, and proceeded on to Pinnacles National Monument. Pinnacles is a place where, once inside, you see spectacular, bouldery mountains, but it being approximately 100 degrees fahrenheit we opted for the shortest available hike. This turned out to be pretty amazing. It went through caves. Not limestone caves with stalactites and stalagmites, but caves formed when large boulders came down and left space underneath. Nevertheless, at one point we had to freeload off someone else's flashlight to make it through.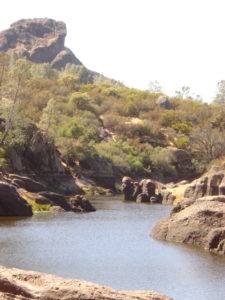 We came out on the other side and made it up to an old reservoir with a 1930s era dam and a little reservoir behind it. I thought at first of jumping in, but then I saw garter snakes gliding through the water and also noticed that the water was not exactly crystal clear. Between this lake and the cave tunnel, we felt like we had somehow gotten onto a Lord of the Rings movie set. If I'd thrown a rock into the water, a monster might have appeared and tried to capture me with tentacles and eat me. We took a scenic walk back to the car on another path that bypassed the caves. But truly, even though this is a National Monument, very few people in Southern California have ever heard of it. Incidentally, at a different time of year, or if we'd had more energy, we could have walked over the top to the Salinas Valley side, where a road dead ends in the monument just above Chalone Vineyard.
We headed south on Route 25 again. When we crossed Route 198, the road lost its number, but continued. But a few miles farther there came a place where the fault could no longer be followed by road. The road climbed over the hill and headed toward San Miguel. From there another road would return to the fault line. We headed down through ranch country into San Miguel. Here I had something to look forward too. The chapel at the mission here was supposed to have been famous for having the best wall paintings [technically I don't think the term 'fresco' applies to these, because fresco is painted rapidly on quick drying plaster], so we paid our fee and went inside.
There were a few rooms to see, but then we discovered that the church was outside the 'fee area' of the mission and we could walk in. And there were painted shells and other designs on the walls. Here, in this unassuming little town just north of Paso Robles, we got to see the best wall paintings of early California.
To be continued . . .